Amfil Technologies Inc. Provides Corporate Update on the Various Initiatives Throughout its Subsidiaries
Thursday, 22. August 2019 14:00
TORONTO, ON, Aug. 22, 2019 (GLOBE NEWSWIRE) -- via NEWMEDIAWIRE – Amfil Technologies Inc. (OTC: FUNN), is pleased to provide a corporate update relating to the progress of various initiatives being spearheaded through its subsidiaries including Snakes & Lattes Inc., GRO3, and a progress update on the Company's FYE audits.
Snakes & Lattes Inc. continues to be the leading contributor to the Company's bottom line in terms of scope, resources, revenues, and overall operational and market awareness. Snakes & Lattes currently has four wholly owned and fully operational tabletop gaming venues, 3 in Toronto, Canada, and 1 in Tempe, Arizona. Additionally, the business is in the process of opening an additional venue located in Tucson, Arizona, and has agreements in place for a number of additional venues across North America. Snakes & Lattes has positioned itself as a leading player in the industry and also operates in the sale, distribution, and order fulfillment of a wide range of popular board game titles in North America, many of which the Company holds exclusive rights to regionally. This area of the overall business has been a key contributor to the overall bottom-line for the Company.
Most recently, the Company entered into the potentially lucrative board game publishing business, through the acquisition of existing board game publisher, Morning, which was completed in 2018. The Company anticipates board-games publishing to be a significant contributor of revenues and profitability moving forward as its various in-house published titles including the highly anticipated Kill the Unicorns and Red Panda game titles hit the market.
Snakes & Lattes is pleased to provide a general update regarding its ongoing business operations and growth initiatives beginning with the café/bar venues.
 Venues – Snakes & Lattes Canada
Snakes & Lattes 'Annex'
The Snakes & Lattes Annex venue continues to generate significant revenue and customer patronage as anticipated. The Company has commenced planning for renovations/upgrades to coincide with the new Westbank Corp Mirvish Village development project which is located right across the street from Snakes & Lattes Annex at 581 Bloor Street West, Toronto. The Mirvish Village project is expected to be completed by 2022 and contain 855 residential units which will be added to the already densely populated neighborhood. Anticipating an increased level of demand from local patrons, the Annex venue renovation will include improvements and upgrades to the kitchen, dining/gaming space, and the overall décor will be enhanced to be more aligned with the atmosphere and guest experience of the newer Snakes & Lattes venues. The Company expects the investment into these upgrades to add significant value to the Snakes & Lattes experience when welcoming new and existing patrons alike.
Snakes & Lattes 'College'
Snakes & Lattes College has continued to be a company leader in revenue and profitability, leading the locations in both overall and 'per square foot' revenues. The new leadership team at the venue level is comprised of industry veterans and experienced mixologists, who are leading the company wide beverage design and direction for 2019-2020. Their focus will be on locally sourced, artisanal products and a reimagining of classic cocktails which the company expects to be well-received by our guests.
Snakes & Lattes 'Midtown'
Snakes & Lattes Midtown is the newest Canadian location and was designed to be the flagship location for all future Snakes & Lattes bar/café locations. Located in the bustling neighborhood of Yonge & Eglinton in Midtown Toronto, the Company expects this location to become one of its most lucrative venues as the neighborhood continues expansion.
The venue has been experiencing some temporary challenges and is being affected to a greater than anticipated degree due to the large-scale construction project for the Eglinton Crosstown LRT. The Eglinton Crosstown LRT is a public transit development project installing a light rail line which will run the length of Eglinton Avenue from Mount Dennis to Kennedy Station. Despite the LRT construction delays and infrastructure challenges which have included water and electrical shutoffs due to the transit project, Snakes & Lattes Midtown has forged ahead continuing an upward trajectory of increased revenues while simultaneously reducing operational costs significantly. As LRT reaches completion, alongside the completion of the many new condominium projects in the area, management expects to see a spike in patronage and for revenue growth to accelerate significantly, matching the upward trend in revenue growth already occurring at the Snakes & Lattes 'Midtown' venue.
Venues - Snakes & Lattes USA
Snakes & Lattes 'Tempe'
The first ever corporate owned US-based Snakes & Lattes venue opened in Tempe, Arizona in October 2018. Despite being operational for less than a year, Snakes & Lattes Tempe has already proven to be a great success. The Company had originally anticipated that sales during the summer months of 2019 would slow down due to the student population being away. However, thanks to the hard work of the manager and staff at Tempe, we were pleasantly surprised to see that sales  remained steady throughout the summer. Snakes & Lattes Tempe has been very well received by the local population and management has received overwhelmingly positive reviews directly from happy guests, local media, and through social media and other online sources. ASU started the fall semester on Monday August 19th and the majority of students came back to town over the weekend prior. Now, with the students back and the loyal patrons we developed over the summer continuing to attend, we had our best Friday to date last Friday, followed by our best Saturday ever on Saturday, followed by our best Sunday ever on Sunday.
Snakes & Lattes 'Tucson'
Snakes & Lattes signed a lease and commenced preparation for construction on its second US-based venue in May 2019. The venue is a two-story unit located less than 100 yards from the main gate to the University of Arizona. The area is frequented by a large population of students and young professionals, which has proven to be a key demographic for the venues, as demonstrated by the most recently launched Tempe location. Management originally expected to have the venue up and running sometime around back-to-school season this fall. Due to structural challenges related to shared plumbing and electrical infrastructure within the building, it created some delays and slightly extended the estimated completion date. The Company is working to map and resolve these issues. Since the construction timeline has been slightly extended, management has decided to use this time productively and develop a second-floor outdoor patio for the venue to add additional value and capacity to the space. The venue is now expected to open in Q4 2019.
Future Venue & Acquisition Strategy Updates
Charlotte
The lease for a Snakes & Lattes venue in Charlotte, NC has been negotiated and is pending execution. The company is committed to opening a Charlotte location and is currently exploring capital investment strategies to ensure the project is fully funded through favorable terms to ensure the success of the venture. Further details relating to the Charlotte venue will be announced as it progresses.
Cincinnati
The company recently investigated the viability of a potential venue location in Cincinnati but determined that the building's infrastructure was not up to the company standards required for a Snakes & Lattes location. The company is committed to opening a Cincinnati venue, and will continue to search for a viable property in the area.
Acquisition Strategy
The company has begun developing an acquisition strategy to merge existing competitors, starting primarily in the Canadian market. Many companies have reached out to have their individual locations being added to the Snakes & Lattes network at minimal cost. The company anticipates that this strategy will reduce risk within new markets, while concurrently increasing brand awareness. Multiple competitors are under review for acquisition in 2019-2020 and management is hopeful a number of venues will be acquired before the end of calendar year. Finally, as a note in the Future Venue Update, the company continues to work towards developing future corporate venues in markets where acquisition would prove impracticable or in markets where such acquisitions are unavailable. 
Retail
Retail operations have been scaled back across all venues in order to facilitate greater resources for more lucrative service-related operations. Concurrently retail offerings are being reimagined to be in-line with the guest experience in order to improve consumer engagement. The company is working to reimagine retail offerings within a "Gift Shop" format - this includes impulse purchasing and retail offerings inspired by top performing titles from the game library. This model is currently under testing at Snakes & Lattes Tempe.
Lean Management
Snakes & Lattes has completed some restructuring of its internal management staff. The Company has reduced the size of the management team and compressed hierarchies to provide efficiency and reduced staffing costs relating to the management of Snakes & Lattes. The corporate team has been streamlined into four operational departments - finance, leadership, growth, and operations. This has reduced overhead while maintaining workload upkeep and efficiency across the leadership team. As the business continues to grow, the Company anticipates that the allocation of business specific management to continue evolving in accordance with business requirements which includes bolstering of the finance and accounting department to support the staggering growth achieved over recent years.
Guest Engagement and Loyalty
To further improve guest engagement, attract new guests, and encourage return visits, Snakes & Lattes is piloting a loyalty program at Snakes & Lattes Tempe. Built around a 'white label' Snakes & Lattes iOS and Android app, guests accrue points during their visit which can be redeemed for 'perks' across all venue offerings. The program, which was launched in early summer 2019, has received an overwhelmingly positive response from the public. The company expects to launch the program across all Snakes & Lattes Canada and Snakes & Lattes USA locations by the end of the calendar year.
Publishing  
Snakes & Lattes Publishing has been working through the release of its highly anticipated title, 'Kill the Unicorns'. The first print-run was completed, shipping recently commenced, and the second print run ordered. The Company has had to navigate some logistical hurdles which include clearing customs in certain countries and is working to adjust the process ensuring a streamlined delivery on all future print-runs. This game title is expected to be on the shelves of retailers in time for the 2019 holiday season. Management expects this to be a strong performer in the retail market and anticipates this title, and the Publishing business as a whole, to be a key contributor to both the Company's top and bottom-lines.
Distribution, Fulfillment, and Warehousing
The Snakes & Lattes Distribution business has historically provided healthy and reasonable revenues to the bottom line throughout the formative years of the Company. The 'Snakes & Lattes Distribution' business consists of shipping products primarily to small 'mom & pop' sized stores. After careful consideration, Management has opted to strategically transition resources and focus from the Distribution business and allocate the resources to the creation and promotion of new Snakes & Lattes venues and to the 'Fulfillment' business, both of which being more lucrative and have higher growth potential moving forward allowing for the Company's continued growth and expansion. The 'Snakes & Lattes Fulfillment' business provides warehousing, logistics, and order fulfillment services catering to larger order sizes for medium to large sized customers, including 'big box' retailers. Snakes & Lattes continues to be a leader in Canadian board game fulfillment services especially in recent years following when the releases of explosively sought-after game titles were hitting the market, such as 'Cards Against Humanity' and 'Exploding Kittens'. These game titles caused a significant spike in fulfillment service volumes and revenues but they are inconsistent and have since returned to more standard levels until the next hot game title hits the market, perhaps kicked off by our new game title Kill the Unicorns. Management had anticipated this occurrence and pivoted to focus on partnerships with US-based fulfillment centers ensuring steady operating revenue despite the decline in the aforementioned key game title demand. Management anticipates the focus shift to the US market to be a key area of growth potential aligned with the US expansion of the Snakes & Lattes venue locations, and also expects this to also be a key asset as Snakes & Lattes Publishing SAS continues to release in-house published game titles such as Kill the Unicorns, Red Panda, and BUURN.
Corporate Rentals & Events
In calendar Q2 2019, Snakes & Lattes Canada hired an experienced Event Manager to develop and oversee the framework, sales, marketing, and execution of corporate client rentals and team building activities across all venues. Since hiring the Events Manager, rental revenues have increased by nearly 100% and are expected to far exceed Holiday rental revenues across all Canadian locations compared to calendar Q4 2018.
Amfil Technologies Inc. - Corporate
Accounting and Controls
As previously announced, the Company has retained the services of LiveCA – an accounting firm that specializes in high growth and start up companies in Toronto, Canada. LiveCA is currently handling cross-border accounting and in France for all Amfil entities. Concurrently, the company has hired a controller, who, in concert with LiveCA is working to establish and maintain key accounting principles. These efforts are expected to significantly reduce the time and resources required for all future audits and accounting matters. This team was hired during FYE 2018 so much of the accounting for the quarters was already completed. These changes contributed to another lengthy FYE 2018 audit. However, all parties have expressed confidence and comfort with the new systems and processes, and it is anticipated that future audits will be completed in a timely manner.
2018 FYE Audit
Taking the accounting changes mentioned above into consideration, management would like to provide a brief update with regards to the finalization of the FYE 2018 audit. Since the beginning of last week, our auditors, RBSM, in concert with CFO Squad and our internal accounting department has had daily calls and will continue to do so until the remaining items are completed and finalized. These efforts have been very productive thus far, but due to the timelines previously announced but ultimately being extended, the company is refraining from providing an estimated completion date. However, based upon the comparison of the initial list of audit items compared to the few remaining audit items, as well as our knowledge from the prior years audit process, it is expected that this will be finalized in the very near future.
Thanks to the newly implemented processes with LiveCA, the first three 2019 quarterlies are for the most part completed. There is also some overlap with the FYE 2018 audit which will reduce the time required to complete the 2019 items. The Company aims to have the FYE 2019 audit submitted on time.   
The GRO3 Subsidiary
As a follow up to a previous press release announcing two purchase orders received for the EcoPr03 10-SS and 20-SS Ozone Treatment systems, the division is pleased to announce that the units have been built, shipped, and received by the processing plants they were requested for and will be installed and fully operational next month. The division is currently working through two additional purchase orders and anticipates these will be finalized very shortly. Pictures of the units will be uploaded to the @AmfilTech twitter account.
For further updates from the company please follow us on Twitter @AmfilTech
For more information regarding the company, and its related subsidiaries please visit the following websites:
Amfil Technologies Inc. www.amfiltech.com/
Snakes & Lattes Inc. www.snakesandlattes.com/
Morning (Snakes & Lattes Publishing SAS) https://www.morning.us/
GRO3 Joint Venture http://gro3systems.com/
Interloc-Kings Inc. http://www.interloc-kings.com/
About Us:
Amfil Technologies Inc. is the parent company to three wholly owned subsidiaries.
1). Snakes & Lagers Inc. holds the trade name and is the owner of Snakes & Lattes Inc. which currently operates 3 tabletop gaming bars and cafes located in Toronto, Ontario and 1 in Tempe, Arizona. The company is in the process of expanding throughout North America. Snakes & Lattes Inc. was the first board game bar and cafe in North America, is believed to be the largest in the world and have the largest circulating public library of board games in North America for customers to choose from. Snakes & Lattes Inc. currently has a 100+ member staff and recently acquired the exclusive distribution rights throughout Canada for some of the most popular board games in the world. The company also operates a lucrative fulfillment and distribution division and has recently entered into the board game publishing business through the acquisition of 'Morning' which is expected to add significant revenues to the bottom line. For more information on Snakes & Lattes Inc. feel free to visit the website at www.snakesandlattes.com.
2). The EcoPr03 GRO3 Antimicrobial System was jointly developed between Amfil Tech and A.C.T.S. Inc. which recently rebranded its technology under Advanced Ozone Integration as an extension of the existing ozone technology being utilized in the food and beverage industry and integrated by A.C.T.S. into companies such as Pepsi, Nestle, Sysco, Sun Pacific and many others. The system is a triple-function sanitization unit capable of naturally eliminating 99.9% of water and airborne pathogens and the typically problematic pests that wreak havoc for cultivators (like aphids, whiteflies and spider mites), as well as bacteria, fungus, microbes and mold on surfaces, all without chemicals. The unit can also constantly regulate a given facility's water supply, oxygenating the water and maintaining a consistent PPM infusion of ozone that prevents the formation of algae, bacteria or mold (allowing for comprehensive water recycling), simultaneously removing the need to use pesticides and/or dangerous, often carcinogenic products to treat production problems, as is common throughout the industry today. This environmentally-friendly solution also eliminates odors, while slightly reducing the air temperature, lowering energy consumption by the HEPA filtration and HVAC systems and could potentially allow for a facilities process to be labeled certified organic in the U.S.A. when the crop is no longer considered illegal on the federal level, otherwise "Clean Green" or "Certified Kind" in the meantime. The EcoPr03 GRO3 Antimicrobial System recently passed product review by a registered USDA certifying agent for use in California as well as Pennsylvania and surrounding states. The subsidiary has developed a strategic partnership with Roto Gro, the creator of proprietary rotary hydroponic technology. More information on this product line can be found on the www.gro3systems.com website or on twitter @GRO3Systems.
3). Interloc-Kings Inc. is a hardscape construction company servicing the Greater Toronto Area. This subsidiary is an authorized Unilock installer, Unilock being, North America's premier manufacturer of concrete interlocking paving stones and segmental wall products. Interloc-Kings Inc. has an A+ Rating with the Better Business Bureau (BBB) and a 10/10 rating on homestars.com. Specializing in stone and wood installations between $5,000 and $150,000 per project, Interloc-Kings Inc. has quickly become a top, high quality installation company of outdoor living areas in the GTA. More information on this subsidiary can be found at the website www.interloc-kings.com.
Safe Harbor Statement
This news release contains statements that involve expectations, plans or intentions (such as those relating to future business or financial results, new features or services, or management strategies) and other factors discussed from time to time in the Company's OTC Market or Securities and Exchange Commission filings. These statements are forward-looking and are subject to risks and uncertainties, so actual results may vary materially. You can identify these forward-looking statements by words such as "may," "should,", "will", "expect," "anticipate," "believe," "estimate," "confident," "intend," "plan" and other similar expressions. Our actual results, such as the Company's ability to finance, complete and consolidate acquisition of IP, assets and operating companies, could differ materially from those anticipated in these forward-looking statements as a result of certain factors not within the control of the company such as a result of various factors, including future economic, competitive, regulatory, and market conditions. The company cautions readers not to place undue reliance on any such forward-looking statements, which speak only as of the date made. The company disclaims any obligation subsequently to revise any forward-looking statements to reflect events or circumstances after the date of such statements or to reflect the occurrence of anticipated or unanticipated events.
Contact:
Roger Mortimer
Amfil Technologies Inc.
Telephone: (647) 880-5887
Email: rmortimer@amfiltech.com  

Ben Castanie
Snakes & Lattes Inc.
Telephone: (416) 500 2911
Email: ben@snakesandlattes.com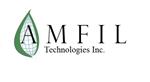 Related Links: 
Author:
Copyright GlobeNewswire, Inc. 2016. All rights reserved.
You can register yourself on the website to receive press releases directly via e-mail to your own e-mail account.