Cyber Acoustics for Healthcare: Innovative, Reliable, Sustainable Technology Solutions for Patients, Providers, and Administrators
Wednesday, 02. March 2022 13:00
VANCOUVER, Wash., March 02, 2022 (GLOBE NEWSWIRE) -- Cyber Acoustics, a leading manufacturer of reliable and affordable computer peripherals used in schools, businesses, and homes, today launched Cyber Acoustics for Healthcare, a line of technology solutions that include high-quality audio/visual products that can be used in outpatient settings, inpatient hospitals, on medical carts, or in administrative offices working behind the scenes.

Growth in Telehealth Services
Telehealth, also commonly referred to as telemedicine, has been called a "game-changer" by Department of Health and Human Services Secretary Xavier Becerra. Studies have proven it increases access to healthcare services for patients in rural or underserved areas, while simultaneously helping to address healthcare workforce shortages. Other research shows video telepsychotherapy is equally effective as in-person office-based care for treating depression and post-traumatic stress disorder. The common thread to the success of virtual healthcare is reliable, high-quality audio/visual equipment to ensure patients and providers can both see and hear each other clearly.
"We know that a doctor's number one priority is providing the best possible patient care, whether they work at a local family medical office, an urgent care center, a mental health facility, or a hospital network," said Steve Erickson, COO at Cyber Acoustics. "Cyber Acoustics headsets, speakerphones, webcams, and desktop speakers ensure both doctors and patients are heard and seen clearly, so the focus is on the best possible patient outcome, not technical difficulties."
Cyber Acoustics space-saving webcams and speakers also make great additions to medical carts, providing handsfree communication for all medical staff.
  
Healthcare Administration
Administrators and office staff play a crucial role in healthcare systems, acting as the backbone of a successful healthcare facility. Cyber Acoustics CA Essentials for Office Environments offers a complete range of solutions to meet all healthcare back office and administrative technology needs. Featuring speakerphones for improved conference calls, docking stations for cleaner workspaces, Zoom-certified webcams for virtual meetings, and headsets that deliver crystal-clear audio, Cyber Acoustics has all the technology solutions needed to create a streamlined, efficient office environment.

Cyber Acoustics for Healthcare Product Solutions
Products in the Cyber Acoustics Healthcare line include:
For more information on all Cyber Acoustics products visit https://www.cyberacoustics.com/.
About Cyber Acoustics
Founded in 1996 Cyber Acoustics is a leading manufacturer of reliable and affordable computer peripherals used in schools, businesses, healthcare facilities, and homes, including speakers, headsets, headphones, microphones, docking stations, speakerphones, and webcams. Focused on sustainability, Cyber Acoustics is the only company in the industry to offer a wired headset and headphone recycling program, accepting old headsets from any manufacturer to be recycled responsibly. To learn more about Cyber Acoustics' commitment to sustainability visit https://www.cyberacoustics.com/sustainability. For more information about Cyber Acoustics products for schools, business, healthcare facilities, and home offices visit https://www.cyberacoustics.com/. Follow the company on Twitter @CyberAcoustics, Instagram, Facebook, and LinkedIn.
PR Contact:
Susie Hayne
shayne@cyberacoustics.com
A photo accompanying this announcement is available at https://www.globenewswire.com/NewsRoom/AttachmentNg/d9388378-42f4-45e9-ad98-46228b5f6616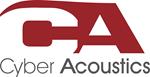 Related Links: 
Author:
Copyright GlobeNewswire, Inc. 2016. All rights reserved.
You can register yourself on the website to receive press releases directly via e-mail to your own e-mail account.