| | | |
| --- | --- | --- |
| | Quest Resource Holding Corporation Announces Successful Completion of Equity Offering and Sales by Selling Stockholders | |
Friday, 12. April 2019 13:30
THE COLONY, Texas, April 12, 2019 (GLOBE NEWSWIRE) -- Quest Resource Holding Corporation (NASDAQ: QRHC) ("Quest"), a national leader in environmental reuse, recycling, and waste disposal services, today announced the closing of the previously announced underwritten public offering of 4,296,915 shares of common stock by three selling stockholders of Quest at a public offering price of $1.50 per share.  Quest did not issue shares and did not receive any proceeds from the sale of the shares sold by the selling stockholders in the offering.  Roth Capital Partners served as sole manager for the offering.

In a separate transaction, affiliates of Mitchell A. Saltz, Chairman of the Board and previously Quest's largest beneficial stockholder, have sold to an affiliate of Hampstead Park Capital Management, LLC 1,750,000 shares at $2.00 per share.
"We are very excited to be associated with a quality company like Quest. Quest is well positioned in the large and growing market for waste recycling and sustainability solutions," said Dan Friedberg, Managing Partner of Hampstead Park Capital Management.  "We look forward to working with the management team over the long term as they seek to expand their capabilities, bring value to their clients, and create stockholder value."
In addition to the closings, the following changes to the Board of Directors were made effective date of April 11, 2019. 
Mitchell A Saltz and Jeffrey D. Forte have stepped down from the Board of Directors.
Daniel M. Friedberg, Managing Partner of Hampstead Park Capital Management has been appointed as a Director, Chairman of our Board, and became Chairman of the Nominations and Corporate Governance Committee of the Board. 
Stephen A. Nolan was appointed to the Board of Directors, as a designee of Hampstead Park Capital Management.
"We are extremely pleased that investors like Hampstead Park Capital and others share our vision, and we view their investments as a tangible sign of confidence in the direction Quest is heading.  We welcome Dan and Stephen to the Board and are looking forward to working with them. With these transactions, we welcome several new investors and a much more diverse stockholder base," said S. Ray Hatch, President and Chief Executive Officer. "I also want to thank Mitch and Jeff for their many years of service to Quest and their continued ownership and support."
Additional details of the completed offering an associated transaction are available in filings with the Securities & Exchange Commission at www.sec.gov.
Daniel M. ("Dan") Friedberg is Managing Partner at Hampstead Park Capital Management, a private investment firm which he founded in 2016.  Previously Dan founded and was Managing Partner and CEO of Sagard Capital Partners from 2005 to 2016. Prior to Sagard, Dan was a partner at Bain and Company leading the New York and Canadian private equity businesses. Dan joined Bain in 1987 in the London office and was a founder of the Toronto office in 1989 and the New York office in 2000.  In addition to Bain, Dan has worked in private equity with a middle-market private equity fund and as head of corporate strategy and acquisitions with a U.S. based multi-billion-dollar global conglomerate. He has served on the Board of Directors GP Strategies Corp. (GPX), InnerWorkings, Inc. (INWK), XRIT Inc. (XRIT), Performance Sports Group Ltd. (PSG), and as a board observer at Hudson Global Inc. In addition, Mr. Friedberg served as Chairman of Integramed America, and Vein Centers of America, having taken them private. Mr. Friedberg is currently on the Board of Buttonwood Networks and USA Field Hockey. Mr. Friedberg has a Master's in Business Administration degree from Cornell University's Johnson School, and a Bachelor of Science (Hons.) Degree from the University of Manchester Institute of Science & Technology. 
Stephen Nolan is a global business leader with a track record of driving sustainable improvements in strategic positioning, financial performance and operational excellence in the business services sector. From 2013 – 2018, Stephen was CFO and subsequently CEO and member of the Board of Directors at Hudson Global (HSON), a global provider of professional recruitment, talent management and recruitment process outsourcing. Prior to Hudson, Stephen was CFO at Adecco North America, a $5B staffing and human capital solutions company for 8 years. Previously, he was CFO at DHL Global Forwarding NA, a $1.5B freight forwarding business and Corporate Controller at Newpower, a residential energy marketing start-up. Stephen worked in Finance roles at Reckitt Benckiser, a global consumer products company for 15 years.  He began his career with PWC in Dublin.  Stephen is a Chartered Accountant and earned a Bachelor of Commerce degree from University College Dublin, Ireland.
About Quest Resource Holding Corporation
Quest is a national provider of reuse, recycling, and disposal services that enable our customers to achieve their environmental and sustainability goals and responsibilities.  Quest provides businesses across multiple industry sectors with single source solutions for the reuse, recycling, and disposal of a wide variety of waste streams and recyclables generated by their operations.  Quest also provides information and data that tracks and reports the environmental results of Quest's services, provides actionable data to improve business operations, and enables Quest's customers to achieve their environmental and sustainability goals and responsibilities. For more information, visit www.QRHC.com.
About Hampstead Park Capital Management LLC.
Hampstead Park Capital Management understands it takes time to build long term stockholder value.  Hampstead Park invests in small public and private companies as a significant minority investor with an indefinite holding period. Hampstead Park supports management teams and boards by bringing strategic, operational and governance experience, typically as a board member. The firm works closely with all constituents to build alignment and an unwavering commitment to growing stockholder value. Additional information may be found at www.hampsteadparkcapital.com.
Investor Relations Contact: 
Three Part Advisors, LLC
Joe Noyons   
817.778.8424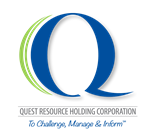 Related Links: 
Author:
Copyright GlobeNewswire, Inc. 2016. All rights reserved.
You can register yourself on the website to receive press releases directly via e-mail to your own e-mail account.