| | | |
| --- | --- | --- |
| | GTX Corp Reports Second Quarter 2019 Financial Results and Corporate Summary Update | |
Tuesday, 20. August 2019 14:17
LOS ANGELES, CALIFORNIA, Aug. 20, 2019 (GLOBE NEWSWIRE) -- GTX Corp (OTCQB: GTXO) ("the Company"), a pioneer in the field of wearable GPS, people and asset tracking Location-Based Services (LBS) and Real-Time Location Systems (RTLS), today announced a summary for the Second Quarter ended June 30, 2019.

Second Quarter 2019 Financial Highlights:
Revenues for the three months ended June 30, 2019 were approximately $842k compared to approximately $147k for the comparable period in the prior year for an increase of approximately $695k, or approximately 472%.
Gross Profit Margin for the three months ended June 30, 2019 was 92% compared to 71% for the three months ended June 30, 2018. This increase in margin is primarily due to the increase in higher margin IP licensing, subscription services and military sales and service revenue during these periods.
Gain from Operations for the three months ended June 30, 2019 was $412k as compared to ($248k) for the comparable period in the prior year.
Total Revenue increased 472% over comparable 2018 period
IP Revenue increased 5,172% over comparable 2018 period
G&A decreased 27% over comparable 2018 period
Derivative and Amortization Expenses decreased 90% over comparable 2018 period
Net Income increased 154% from 2018, reflecting a profitable quarter
No Dilutive Financing
Six Month Financial Highlights
Overall Revenue increased 169% over 2018 comparable period
IP Licensing revenue increased 2,671% from 2018
G&A decreased 11% from 2018
Gross Margin, increased from 67% to 89%
Derivative and Amortization Expenses decreased 70%
Loss from Operations decreased 99% from 2018
Net Loss decreased 81%
First & Second Quarter 2019 Business Highlights and Developments
Completed the sale and licensing of GPS assets and Intellectual Property to Inpixon ( NASDAQ: INPX)
Completed delivery of initial order from Hill Air Force Base.
Expanded GPS SmartSole distribution across Canada, Denmark, Sweden, Norway, Finland, the Netherlands and U.K.
Overall Subscribers increased 42% over 2018 comparable period
International Subscribers increased 44% over 2018 comparable period
Domestic Subscribers increased 38% over 2018 comparable period
Increased IP revenues - Signed 3 patent license agreements in Q1, signed 3 in Q2, expect to sign several more in Q3
Launched new NFC Temperature Trackers
Began NFC pilot programs
Management commentary:Patrick Bertagna, GTX Corp CEO.
As highlighted above, we had a very significant and profitable quarter with $844,000 in revenues and $371,000 in profits. We saw double and triple digit increases in all the metrics we measure – revenues, subscribers, margins, profits, while our cost of operations remained steady, cash received in operations was positive, SG&A and net losses decreased.
Revenues as a whole in Q2 2019 increased by 472% or $694,857 in comparison to Q2 2018. The big catalyst this quarter was the Inpixon transaction and other IP licensing revenues which increased 5,172% or $646,500 and even though we don't expect mid 6 figure IP income every quarter, the IP licensing part of our business is gaining momentum and we do expect to see continued growth this year. Service income increased by 81% or $43,912 as we continue to grow our subscriber base, and product revenues had a small increase of 6% or $4,444 over Q2 2018. We also saw a reduction in operational expenses and took on no new dilutive financing. Worth noting, even without the Inpixon transaction this quarter our revenues would still have been up approximately 30% over the 2018 comparable period.
In addition to a very strong IP licensing quarter, our overall subscribers increased by 42.5%, (38% domestically and 44% internationally). Military sales increased 30% and hardware sales had a slight 6% increase. We also added a new distribution channel through an agreement with Phoniro, a subsidiary of Assa Abloy, a leader in providing digital health care solutions to seniors across Denmark, Sweden, Norway, Finland, the Netherlands and U.K. We successfully delivered our first order to Hill Air Force Base, continued to support Edwards Air Force Base and continued to work with the Sri Lanka government.
In the spirit of exploring new opportunities, we started a new R&D project with our Canadian distributor to embed our tracking technology inside custom handmade orthotic insoles in order to enter a high-end and high price point specialized footwear market across Canada. We also began piloting our new Near Field Communication (NFC) Temperature Trackers. These tags provide real-time temperature sensing and data logging across the supply chain necessary with transportation of perishables such as food, beverages, pharmaceuticals, live organs and other temperature sensitive products that can be negatively affected by temperature conditions in transit. The data can be read by an NFC-enabled smartphone, which eliminates the use of special costly equipment and with our built-in security measures can be uploaded to our server in order to prevent unauthorized modification of data logs, allowing brands, retailers, and distributors to verify the quality of their perishable goods in transit, by confirming that temperature-sensitive products were shipped properly. This is still a new business silo we are exploring but we see this technology and market as a natural extension into the world of tracking, which takes us beyond humans and high value assets.
In summary, the first half of 2019 was a transformative period for GTX Corp and we expect these fundamental building blocks to position the Company for growth, during the second half of 2019. As we pointed out in our previous quarterly summary, management is focused on building high-margin, recurring revenues from service subscriptions, IP licensing and introducing to the market place new innovative technologies that produce a positive impact on society.
GTX Corp is a For-Profit with Purpose Company which has an extensive patent portfolio, is a proud U.S. military contractor and has multiple wearable tracking products sold through its online store, Amazon and authorized resellers and distributors servicing customers across the globe.
GTX Corp (GTXO) is a pioneer in smart, mobile and wearable GPS tracking and recovery location based products, supported through a proprietary IoT enterprise monitoring platform. GTX offers a global end-to-end solution of hardware, software and connectivity. GTX Corp develops 2 way GPS tracking technologies which seamlessly integrate with consumer products and enterprise applications. GTX Corp utilizes the latest in miniaturized, low power consumption GPS, Cellular, RF, BLE and NFC technology enabling subscribers to track in real time the whereabouts of people or high value assets through a complete end to end - customizable transceiver module, wireless connectivity gateway, smart phone Apps, middleware, and IoT portal. Headquartered in Los Angeles, California, GTX is known for its award-winning patented GPS SmartSole® - Think Dr. Scholl's meets LoJack, the world's first invisible wearable technology tracking device created for those at risk of wandering due to Alzheimer's, dementia, autism and traumatic brain injury. GTX Corp's business model is built around technology innovation and holds over 85 patents with many issued patents in the area of GPS tracking. The company has international distributors servicing customers in over 35 countries and is a U.S. Military Government contractor. Other customers include public health agencies and municipalities, emergency and police authorities, private companies, public and private senior care homes, and consumers.
GTX Corp is an equal opportunity employer with a history of employing a diverse workforce and U.S. veterans; makes many of its products in the USA, is a member of the United Nations Global Compact and Trust 2 Protect partnership. The Company doesn't just make and sell the best GPS tracking products, they deliver innovative, miniaturized, low power consumption wearable tech that provides safety, security and peace of mind at the touch of a button. GTX puts the "Where" in Wearable Tech.
Online: www.gtxcorp.com Track My Workforce | GTX Corp www.gpssmartsole.com
Social media - #withyou #smartsole #connectedandprotected #trackwhatyoulove
GTX Blog http://gtxcorp.com/press/
https://www.facebook.com/gtxcorpcom
http://www.twitter.com/gtxcorp
www.linkedin.com/in/gtxcorp
http://www.pinterest.com/GTXCorp/
http://instagram.com/gtxcorp
General information, investor relations, wholesale licensing, consumer purchase:
213.489.3019
info@gtxcorp.com
ir@gtxcorp.com
http://gtxcorp.com/contact-us/
GTX Corp United Kingdom
In the UK, GTX Corp operates from its London office. For more information, please contact:
Nelson Skip Riddle
Email: nsriddle@gtxcorp.com
Tel: +44 7785 364100

Disclaimer: GTX Corp does not warrant or represent that the unauthorized use of materials drawn from the content of this document will not infringe rights of third parties who are not owned or affiliated by GTX Corp. Further GTX Corp cannot be held responsible or liable for the unauthorized use of this document's content by third parties unknown to the company.
Forward Looking Statements
This news release contains forward-looking statements. The terms and phrases "expects," "would," "will," "believes," and similar terms and phrases are intended to identify these forward-looking statements. Forward-looking statements are based on estimates and assumptions made by GTX in light of its experience and its perception of current conditions and expected future developments, as well as other factors that GTX believes are appropriate in the circumstances. Many factors could cause GTX's actual results, performance or achievements to differ materially from those expressed or implied by the forward-looking statements. Certain risk factors that may cause actual results to differ are set forth in GTX's Annual Report on Form 10-K filed with the U.S. Securities and Exchange Commission (which may be obtained on the SEC Website). These factors should be considered carefully, and readers should not place undue reliance on GTX's forward-looking statements. GTX has no intention and undertakes no obligation to update or revise any forward-looking statements, whether as a result of new information, future events or otherwise, except as required by law.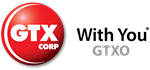 Related Links: 
Author:
Copyright GlobeNewswire, Inc. 2016. All rights reserved.
You can register yourself on the website to receive press releases directly via e-mail to your own e-mail account.